ALL ABOARD! YOUR KEY TO A GREAT CRUISE SHIP JOB
Paul Emery Baya worked for Norwegian Cruise Line in a variety of positions, including that of assistant purser. Here Mr. Baya shares his experiences working on Norwegian Cruise Line's cruise ships. He also offers these tips for others looking to break into the cruise industry.
My advice to those interested in cruise ship jobs would be as follows: Take time to make your resume and cover letter look as good as you can. Customize each one to the cruise line you are applying to.
Have friends evaluate it. I also suggest that you mail yourself a copy of the finished product and play the role of the hiring staff. Would you hire you? Also, come to the interview (if you have one) with an above average knowledge of the company.
I was asked a few questions at my interview.
What was my experience in the hotel industry?
What do I know about Norwegian Cruise Lines?
When can I start?
Apparently the personnel manager was very impressed with my knowledge of the company. She said, " Wow, you have certainly done your homework. Most of the candidates come to the interview with little knowledge of the company. I'm impressed with what you know."

CRUISE LINE JOB APPLICATION PROCESS
After your application is accepted, you will either have a phone or in person interview with the cruise line, then the they will offer you a contract. It is important that you carefully read it before you sign it. Your first contract will usually be for somewhere between three months and one year. Generally, an employee's first contract will be on the shorter side of that range, but after successfully completing its terms, an employee often will be asked back for longer contracts. A general rule of thumb is once you get that first contract, your next opportunity on a cruise ship will be easier to obtain.
There are also career positions onboard that not only include the captain and officers but also engineers and other staff. If you are interested in these positions and you have the qualifications for such positions, the employment contracts will be much longer in term.
CRUISE EMPLOYMENT RESOURCES
Cruise Line Employment Portals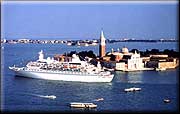 Bon Voyage!
You may now be ready to apply for your next cruise ship job. There are many resources on the Internet and in bookstores. Some of these resources are outstanding and others leave much to be desired
With a lot of things, I would recommend people just wing it, but since getting a job on a cruise ship can be very competitive, it is worth paying a little money to try and gain that inside edge.
I spend endless hours reviewing most of the resources available and have highlighted my favorites. I generally recommend people use web resources over paper books basically due to the fact that the good internet services are updated much more frequently than is possible with printed books.
Good Luck & Bon Voyage!


Clarke Guttman
Guest Writer - 2019 Issue of Cruise Insiders
Globe Trotter, Adventurer & Writer

---