CRUISE LINE JOB OPPORTUNITIES
The following are brief descriptions of some of the main positions aboard cruise ships. Shipboard employees are typically divided into departments relating to service, passenger accommodations (sometimes called "hotel services"), entertainment, and general ship maintenance, engine work, and safety. Different cruise lines use variations on these categories, but for our purposes we have divided onboard job descriptions into the areas of
1) Activity/Entertainment Jobs
2) Deck Department Jobs
3) Service/Hospitality Jobs
4) Personal Care Jobs
A fifth category is Office, which includes those jobs commonly available in corporate headquarters. If you want to work in an office environment and avoid a nomadic lifestyle and demanding tourists, this might be the right path for you. Going corporate is a way to get travel benefits and can be your key to a job on board a vessel at a later time, if you so choose.
The majority of offices are either in Los Angeles or Florida. However, New York, Seattle, and various European cities also have their share. If you live in or near one of these cities, you are in luck. If you do not, then don't dispaire, keep your attitude positive and get ready to travel.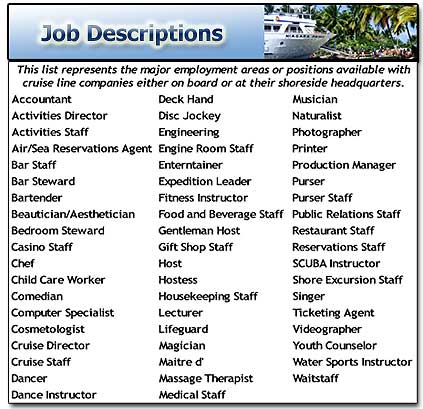 The types of jobs available are wide-ranging and include booking agents, receptionists, sales representatives, human resource representatives, and customer service personnel. Plenty of other jobs exist as well.
Take a look at the above list and think about your past work history and what skills you have to offer cruise companies.
Now that you have a good idea of your top four to five jobs, the next chapter will provide you with information on how to secure cruise ship employment.
| | |
| --- | --- |
| Take the next step: | |